The Document Intelligence Platform
Simplify and automate complex document processing with AI
Save up to 90% of operational costs related to the manual process of extracting information from documents
Apply AI to your documents up to 60% faster with pre-built configurations
Microsoft has awarded Neudesic the 2023 US Partner of the Year Award for AI
Microsoft has awarded Neudesic the 2023 US Partner of the Year Award for AI
Neudesic's Document Intelligence Platform
Realize the value for your business with our AI technology.
The Neudesic Document Intelligence Platform (DIP) allows non-technical users to apply AI and Intelligent OCR to replace the manual and time-consuming process of extracting data from business documents. Powered by Microsoft Azure AI, DIP can:
Powered by Microsoft Azure AI
Enable non-technical users to train AI to extract data from any document
Process thousands of documents simultaneously with accuracy
Be integrated seamlessly into an existing line of business workflow and applications
Ensure maximum data security measures behind your firewall with Secure AI
Powered by Microsoft Azure AI: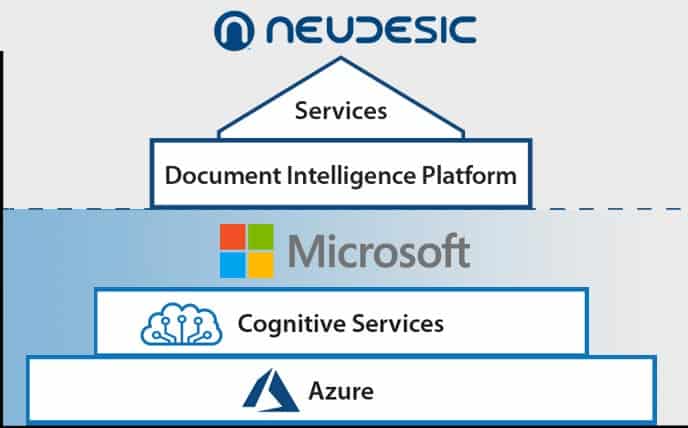 Proven results towards business and innovation from the Document Intelligence Platform
The Benefits of the Document Intelligence Platform:
Accelerate work and productivity
Complete more tasks in less time with fewer errors
Create more personalized experiences to streamline customer management workflows
Automatically Extract Information From:
Contracts and Forms
Financial Documents
Customer Service Recordings
Images and Digital Assets
Deliver Insights That Automate:
Applications
Workflows
Business Processes
Approvals
Learn more about the Document Intelligence Platform
Learn how it accelerates Artificial Intelligence (AI) across modern Financial Services enterprises.
Find out how you can streamline claims processing, reduce costs, and generate value from unstructured data.
Health & Life Sciences Webinar
Transform healthcare systems for intelligent data and actionable insights.
Document Intelligence Platform Use-Cases
Our solution spans across multiple industries, such as:
Automate portfolio company process optimization, merger and acquisition due diligence, and investment committee knowledge base automation.
Utilize digital assistants to review client documents and reports for back-office process optimization and private wealth onboarding.
Extract relevant data from all types of documents, such as insurance claims, demand letters and process insurance applications.
Identify and extract medical and patient information from discharge summary, fax cover sheets, lab results, and more within compliance to industry regulations.
Generate actionable insights for financial opportunity oversight identification and legal agreement risk evaluation.
Review properties on court documents and route to the appropriate judge and clerk without human intervention.
Apply automation to documents, such as on-boarding paperwork, complex invoice processing, and contract analysis.