The Neudesic Document Intelligent Platform (DIP) allows non-technical users to apply AI and Intelligent OCR to replace the manual and time-consuming process of extracting data from business documents. Powered by Microsoft Azure AI, DIP can:
Powered by MSFT Azure AI
Enable non-technical users to train AI to extract data from any document
Process thousands of documents simultaneously with accuracy
Be integrated seamlessly into an existing line of business workflow and applications
Ensure maximum data security measures behind your firewall with Secure AI
Powered by Microsoft Azure AI: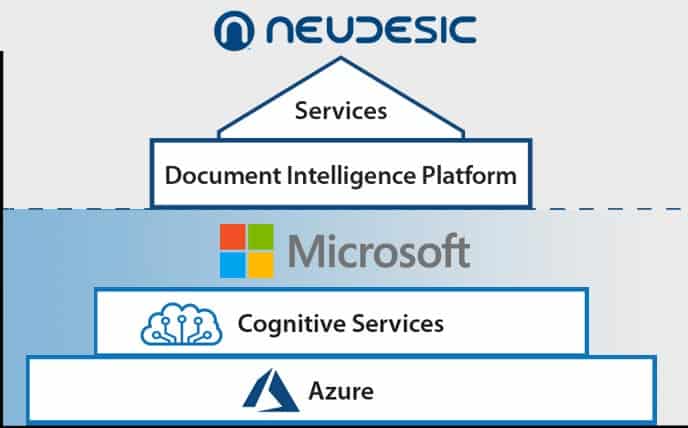 Save up to 90% of operational costs related to manual document processing
Apply AI to your documents up to 60% faster with pre-built configurations
Mitigate the risk of human error when manually extracting data from documents
Free up valuable resources and rapidly reduce labor-intensive tasks
Document Intelligence Platform - Introduction Video
Introduction to what the Document Intelligence Platform does and use case examples
Document Intelligence Platform Use-Cases
The Neudesic Document Intelligent Platform can be applied to many different use cases. See how we've helped our clients across 6 different industries:
Automate the review of contracts and due diligence documents for compliance to industry regulations and legal requirements.
Digital assistant that reviews client documents and reports on securities/ financial assets to ensure adherence to industry compliance regulations and requirements.
Automatically review client history and contracts to facilitate risk assessment and scoring for 1.5 million documents annually.
Automate the ingestion and review of 1 million quality control documents annually.
Automate tagging and curating event and game-time photos for distribution and promotion.
Leverages containerized cognitive services to classify CCAI documents.
Our "AI Unit of Work" allows you to track and measure the cost of processing each page or document, simplifying ROI calculations to maximize business value.
Automatically extract and transform unstructured data from sources such as:
Financial Documents
Contracts and Forms
Customer Service Recordings
Images, Digital Assets, and more